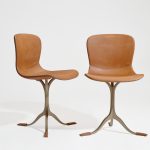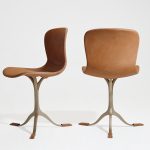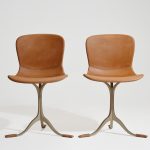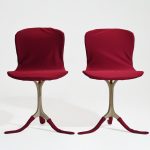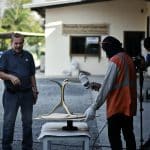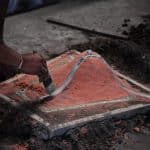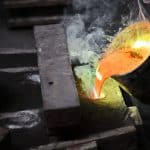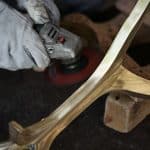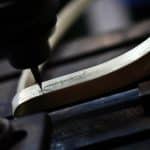 A pair of PT40 Chairs, Hand Stitched Leather, Sand Cast Brass
Made-to-Order
A Pair of our classic chairs in Mid Brown leather, with our classic Golden Sand brass combo, made-to-order available in any quantity starting from one.
Category:
Dinging, Chairs, Made-to-Order
Leather

Italian Leather in Châtaigne (Mid Brown)

Base

PT40 Sand Cast Brass

Finish

Golden Sand

Size

W 43 x D 52 x H 79 | Seat H 46 cm

W 16.92 x D 20.27 x H 31.1 | Seat H 18.11 in

Lead-time

12 weeks maximum
Chairs
P. Tendercool chairs and stools are designed by Belgians Stéphanie Grusenmeyer, Pieter Compernol and Austrian Florian Gypser to match our table bases. The chair's base is sand cast by hand in either Brass or Bronze by Italian Bronze-master Armando Benato and his team. Armando has passed 80 and used to work for Salvador Dalí. Truly Old Skool.
Important Note
Three legs, not four or five. Like all three-legged chairs ours need some getting used to. Some of our clients opt for a version with a half-ring at the bottom for extra stability.
Bronze or Brass Base
Our P. Tendercool chair bases are made from solid sand cast bronze or brass. The chair-base has been cast, brushed and finished by hand. This is visible. Air-bubbles from the casting process, weld-marks or brush lines will be present: our chairs are made by hand, one by one. There might be minor height or angle differences between chairs. P. Tendercool chairs are, like all our creations, never computer-perfect, nor made by robots.
We do apply a neutral-colored primer on the chair bases but your chair will 'patinate' over time. This oxidation process – while slowed down due to the applied primer – is natural, inherent to bronze and brass, and is indeed, intentional. Oxidation marks will never be considered a 'defect'.
Scratches
Bronze or brass are metals. Metals can scratch or cause scratches. We mounted protective patches on the chair, but when you move the chair try not to forget that floors generally do not like metal. You may want to opt for our handstitched leather socks in the same color as the seat. Our finishes withstand everyday use, but as cars, they are not 100% scratchproof.
Leather
We hand-pick our leathers from local tanneries and do love a natural look. We chose hides which show 'traces of the beast': some necklines and marks remain visible. We buff the leather for a soft natural look and apply an oil finish: We like the traces of age and usage, and compare this to the look of horse saddles, weathered belts or really great leather shoes, worn for years. Antique dealers call this 'patina' and our chairs will become witnesses of decades-long use. It is up to you to apply some neutral saddle oil or cream to maintain your chairs. All this to mention we do not 'plastic-coat' our leather. Our chairs, as our tables, are never perfect, they look natural and will age with grace.
Shipping Options
Don't worry! We ship about one third of our creations overseas and enjoy a near perfect track-record. Do contact us if you'd have any questions or concerns. We'll get back to you within 12 hours.
Door-to-Port
Delivery to the port nearest to you (by sea)
This is the most affordable shipping option. You will need to arrange transport from the nearest port to your (client) home. There are two options:
With help of a provided customs broker who arranges all the paperwork for you and informs where and when to pick up the crate(s). Since COVID-19 outbreak this custom broker service costs a flat fee of 1,300 US Dollar and is included in our quotation. All other costs are included, except some charges* at destination which cannot be pre-paid.
With help of a customs broker of your choice who arranges all the paperwork for you and informs where and when to pick up the crate(s). He will invoice you directly. All other costs are included, except some charges* which cannot be pre-paid.
Door-to-Door
Delivery to your – or your client's – doorstep (by air or by sea)
A customs broker handles all the paperwork and informs when the shipment is scheduled and when they would deliver. All costs are included except some local charges* at destination which cannot be pre-paid. We will always advise both DHL by air and sea shipping costs.
Note: to date we cannot arrange 'White Glove' delivery from Thailand: you should arrange help to uncrate, install and remove packaging. In reality a little pocket money to delivery people can do wonders. For larger items we suggest checking with the customs broker in advance if they are willing to offer that extra service.
Overview of charge* at destination
・ Local VAT (there is no import-tax on our furniture).
・ Merchandise processing fee = 0.3464% of value (USA).
・ Harbor maintenance fee = 0.125% of value (USA).
・ Storage fee (as per receipt, if any).
・ Customs inspection fee (as per receipt, if any).
・ Destination terminal fee (based on warehouse's tariff which is different for each warehouse at destination port).
Due to COVID-19, there are huge fluctuations in the shipping fees at the moment. Unfortunately for us, we can only secure shipping quotes for a maximum of two weeks. This means that we can only provide an estimate of the shipping quote when you place an order. Once production is nearly completed, we'll re-assess shipping costs and let you know if there are any changes. We'll of course do our best to keep shipping as low as possible for you.
---

Payment
Tax
We will add 7% VAT for items delivered in Thailand.
Fee/Charge
・ For payments by credit card, 2% will be added.
・ Since we are based in Thailand our prices are listed in Thai Baht. Listed prices in US Dollar are indicative, will fluctuate with exchange rate.
・ Payment possible in Thai Baht, US Dollar or Euro.