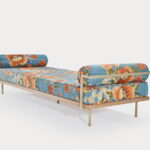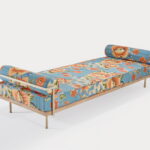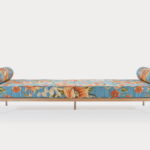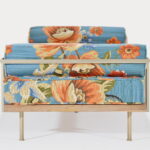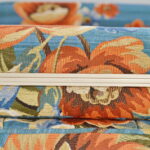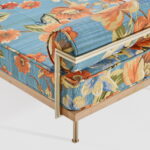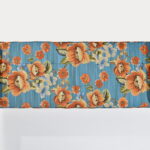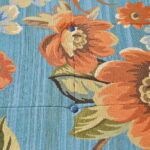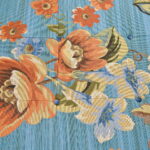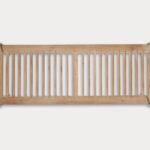 Double Daybed in Bleached Reclaimed Hardwood Frame, Brass Structure
Made-to-Order
Teak and brass daybed dressed in Garden Tapestry. A limited-edition fabric collection designed by Belgian interior and landscape designer Jean-Philippe Demeyer. "If there is a film title that suits me perfectly it's 'Back to the Future', I am obsessed with updating historical decorative schemes or themes, it gives me energy". I am basically a blender: I mingle yesterday arts and crafts inspiration with fashion trends of today. This garden tapestry fabric is an 'Up to Date' version of the more than 500 years old Flemish tapestry weaving tradition. Tapestries used to be hung along the damp walls of the medieval stone castles, a stunning way to create a warm and cozy interior. Replacing the greens by turquoise and the trees by oversized wonderland flowers (another obsession) gave this fearless atmospheric result. There are a few features of a house that leave a more powerful and lingering impression than the atmosphere.
SKU:
PT76-BS1-TE-BL-NO-JD&CO (Garden Tapestry)
Category:
Sofa & (Day)beds, Indoor, Made-to-Order
Frame

Reclaimed Teak Wood

Finish

Bleached + Natural Oiled

Structure

Extruded & Hand-Welded Brass

Finish

Golden Sand

Seat

100% Latex

Fabric

JP Demeyer & Co (Garden Tapestry)

Yardage

7 m for a standard width of 140 cm (54 in)

Size

W 225 x D 85.6 x H 56.5 | Seat H 38.5 cm

W 88.58 x D 33.7 x H 22.24 | Seat H 15.16 in
Sofas and (Day)beds
Stéphanie Grusenmeyer and Pieter Compernol, founders of P. Tendercool teamed up with French designer Jerôme Barrier to create a sleek sit stirring collection of 21st century vintage, crafted with P. Tendercool care, Reclaimed Hardwood, solid Brass and Luxurious Latex. Dressed in your preferred fabrics. A humble homage to Bauhaus, Mies van der Rohe and Le Corbusier.
We Stole From Mies
We use cross-profiled extruded and hand-welded solid Brass rods for the legs, arm- and headrests. We got this idea whilst visiting the iconic Barcelona Pavillion by Mies van der Rohe, one of our all-time favorites. Mies used this shape as supporting column. The cross-profile is not only extremely strong: by – seemingly – straightforward cutting and welding we can create shapes which are elegant, functional, yet minimal. A leg supports the wooden frame, curls around it, becomes armrest or headrest, curves back to become a leg on the other side. Pure, functional design. Simplicity!
Luxurious Space
With condo prices rising and location, location, location ever more the mantra of city life, space becomes a rare luxury. Our Three-Seater sofa takes up a mere W 225 x D 87 x H 70 cm / W 88.58 x D 34.25 x H 27.56 in, and doubles as a very comfortable guest-bed in seconds, just remove the pillows and bolsters and a perfect, 100% latex mattress awaits your guests, no fumbling folding, no need to move furniture. Minimal space taken, no compromise on comfort and flexibility. Elegant. Bespoke. Luxury.
Architecture
The all-visible architecture of our sofa collection provides stability and functionality, yet delivers linear, luxurious looks. What you see is what you get. From all sides. Even from the back. Very few sofas grace the center of a living room. We believe ours do.
Reclaimed Hardwood
We are based in Thailand, ideally placed for some serious wood hunting and gathering. We regularly go on sourcing-trips to villages and wood shops where merchants buy up vintage houses, rice-barns and long forgotten structures. While Thailand no longer produces wood, a couple of generations back Teak wood was abundant. It is our job to score this beautifully aged wood and re-use it for our furniture. Real Reclaimed Hardwood, (not the sand-blasted machined crap many claim is reclaimed). Which means you will find some traces of the wood's past life: traces of old joints, some pegs- or nail holes we filled. Our Sofas & (Day)beds are strong and sturdy, but they are not perfect. Just like we like them.
Latex
We were blown away when mattress-masters Theptex Thailand agreed to help us to soften our Sit-Stirring seating collection: we are humbled, and proud to announce our seats and bolsters are created with the purest, most natural latex, from real trees, from properly managed plantations, harvested by real people, created and processed by skilled workers in Lab-like environments. More mattress-memory than even the best memory foam, antibacterial, antimicrobial, anti-fungal, hypo-allergic are just a few perks you'll enjoy.
Most importantly: our sofa's sit Pretty Darn Well. Binge watching Peaky Blinders? Rest assured: Luxurious Latex, always a safe bed. One down-side: reasonable risk of couch-potato-guests overstaying their welcome.
Feathers
All our pillows and cushions are filled to the brim with down and feathers or latex-flakes should you be allergic.
The Great Outdoors
Our Sofas & (Day)beds and loungers can be perfectly used outdoors. We'd change the latex to Quick Dry Foam and upholster with any outdoor fabric you send our way.
Rain Covers
We do not stock or make our rain cover in-house, so we cannot guarantee the lead time of production. Should you like to order a rain cover, please let us know the color you would prefer and we will do our very best to get you your rain cover as soon as possible.
Shipping Options
Don't worry! We ship about one third of our creations overseas and enjoy a near perfect track-record. Do contact us if you'd have any questions or concerns. We'll get back to you within 12 hours.
Door-to-Port
Delivery to the port nearest to you (by sea)
This is the most affordable shipping option. You will need to arrange transport from the nearest port to your (client) home. There are two options:
With help of a provided customs broker who arranges all the paperwork for you and informs where and when to pick up the crate(s). Since COVID-19 outbreak this custom broker service costs a flat fee of 1,300 US Dollar and is included in our quotation. All other costs are included, except some charges* at destination which cannot be pre-paid.
With help of a customs broker of your choice who arranges all the paperwork for you and informs where and when to pick up the crate(s). He will invoice you directly. All other costs are included, except some charges* which cannot be pre-paid.
Door-to-Door
Delivery to your – or your client's – doorstep (by air or by sea)
A customs broker handles all the paperwork and informs when the shipment is scheduled and when they would deliver. All costs are included except some local charges* at destination which cannot be pre-paid. We will always advise both DHL by air and sea shipping costs.
Note: to date we cannot arrange 'White Glove' delivery from Thailand: you should arrange help to uncrate, install and remove packaging. In reality a little pocket money to delivery people can do wonders. For larger items we suggest checking with the customs broker in advance if they are willing to offer that extra service.
Overview of charge* at destination
・ Local VAT (there is no import-tax on our furniture).
・ Merchandise processing fee = 0.3464% of value (USA).
・ Harbor maintenance fee = 0.125% of value (USA).
・ Storage fee (as per receipt, if any).
・ Customs inspection fee (as per receipt, if any).
・ Destination terminal fee (based on warehouse's tariff which is different for each warehouse at destination port).
Due to COVID-19, there are huge fluctuations in the shipping fees at the moment. Unfortunately for us, we can only secure shipping quotes for a maximum of two weeks. This means that we can only provide an estimate of the shipping quote when you place an order. Once production is nearly completed, we'll re-assess shipping costs and let you know if there are any changes. We'll of course do our best to keep shipping as low as possible for you.
---

Payment
Tax
We will add 7% VAT for items delivered in Thailand.
Fee/Charge
・ For payments by credit card, 2% will be added.
・ Since we are based in Thailand our prices are listed in Thai Baht. Listed prices in US Dollar are indicative, will fluctuate with exchange rate.
・ Payment possible in Thai Baht, US Dollar or Euro.