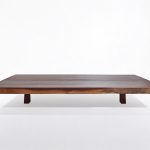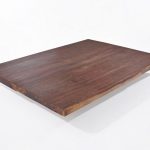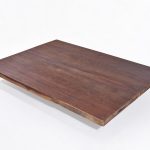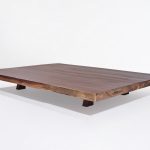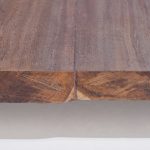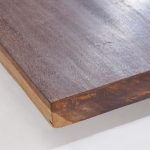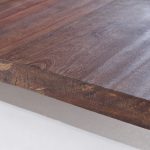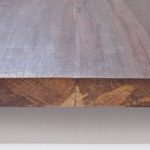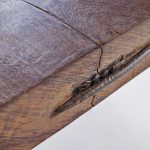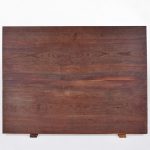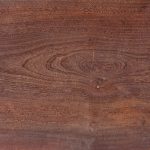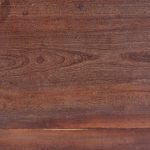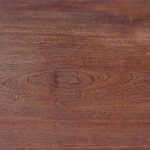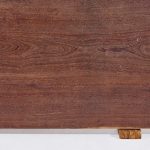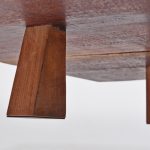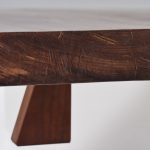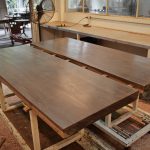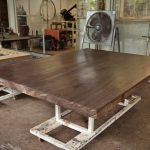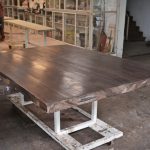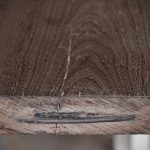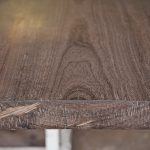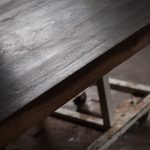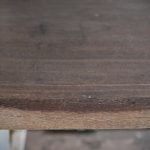 Coffee Table Antique Hardwood and Wood Base
Made-to-Order
We create this massive low table for our Bangkok based client by joining two impressive slabs of solid Chicken-Wing wood (鸡翅木 Jīchì mù) (learn more about this wood below). We made a deliberate decision to forego additional design elements and decorations, choosing instead to preserve the original markings that reflect the passage of time these slabs have gone through. To further enhance the beauty of the natural grain, we applied several passes of hard wax oil and buffed to a subtle sheen. The table features a metal brace that holds the wood together, which dates back at least half a century, a truly antique wood. We opted to preserve this authentic 'objet trouvé' as it adds to the table's character and utilize the minimalistic trapezoid wood base crafted from the same Chicken Wing wood to keep the top undistracted. We are honored to include this low table in to P. Tendercool Hall of Fame.
If you are interested in a similar table, reach out to us.
SKU:
2ATOP-PT32-CW-DP-203*150*38
Category:
Tables, Coffee / Occasional, Made-to-Order
Top

2 Slabs of Chicken-Wing Wood (鸡翅木 Jīchì mù)

Finish

Diamond Oiled

Base

PT32

Finish

Diamond Oiled

Size

D 203 x W 150 x H 38 cm

D 79.92 x W 59.05 x H 15 in

Lead-time

12 weeks maximum
Antique Hardwood
P. Tendercool founders are former antique dealers who collected about 200 slabs of antique Chicken-Wing Wood (鸡翅木, Jīchì mù) over a period of 15 years. This wood was venerated during the 'Ming' dynasty and coveted by literati and scholars for its beautiful grain, "…like feathers of a bird…"
Our slabs were collected in Northern Vietnam, close to the Chinese border. Back in the 19th century, villagers would place two identical 'Slices' of the same tree next to each other, directly on the floor, to serve as a dry platform to sit, eat, and sleep on. This explains why our slabs come in pairs, typically about a person's size, in various thicknesses. Inspection of the underside shows they were clearly cut by hand (pre-machine age!), without traces of legs nor decoration. Unlike the Chinese refined 'Kang' tables for the well-to-do, these 19th century slabs were purely functional furniture.
The simple fact these wooden slabs still exist is proof of their stone-hard quality: many decades of humid-hot, termite-infested surroundings have had no noticeable effect other than them remaining solid witnesses of a bygone era. We keep them in their original unfinished state awaiting clients' preferences. We currently own two hundred slabs, an extraordinary collection for you to select from.Made-to-Your Order
Contact us with your preferred size or any details you love and we'll get back to you with a quotation.
Lead-time: 12 weeks (shorter if we can – please contact us for our schedule).
Shipping Options
Don't worry! We ship about one third of our creations overseas and enjoy a near perfect track-record. Do contact us if you'd have any questions or concerns. We'll get back to you within 12 hours.
Door-to-Port
Delivery to the port nearest to you (by sea)
This is the most affordable shipping option. You will need to arrange transport from the nearest port to your (client) home. There are two options:
With help of a provided customs broker who arranges all the paperwork for you and informs where and when to pick up the crate(s). Since COVID-19 outbreak this custom broker service costs a flat fee of 1,300 US Dollar and is included in our quotation. All other costs are included, except some charges* at destination which cannot be pre-paid.
With help of a customs broker of your choice who arranges all the paperwork for you and informs where and when to pick up the crate(s). He will invoice you directly. All other costs are included, except some charges* which cannot be pre-paid.
Door-to-Door
Delivery to your – or your client's – doorstep (by air or by sea)
A customs broker handles all the paperwork and informs when the shipment is scheduled and when they would deliver. All costs are included except some local charges* at destination which cannot be pre-paid. We will always advise both DHL by air and sea shipping costs.
Note: to date we cannot arrange 'White Glove' delivery from Thailand: you should arrange help to uncrate, install and remove packaging. In reality a little pocket money to delivery people can do wonders. For larger items we suggest checking with the customs broker in advance if they are willing to offer that extra service.
Overview of charge* at destination
・ Local VAT (there is no import-tax on our furniture).
・ Merchandise processing fee = 0.3464% of value (USA).
・ Harbor maintenance fee = 0.125% of value (USA).
・ Storage fee (as per receipt, if any).
・ Customs inspection fee (as per receipt, if any).
・ Destination terminal fee (based on warehouse's tariff which is different for each warehouse at destination port).
Due to COVID-19, there are huge fluctuations in the shipping fees at the moment. Unfortunately for us, we can only secure shipping quotes for a maximum of two weeks. This means that we can only provide an estimate of the shipping quote when you place an order. Once production is nearly completed, we'll re-assess shipping costs and let you know if there are any changes. We'll of course do our best to keep shipping as low as possible for you.
---

Payment
Tax
We will add 7% VAT for items delivered in Thailand.
Fee/Charge
・ For payments by credit card, 2% will be added.
・ Since we are based in Thailand our prices are listed in Thai Baht. Listed prices in US Dollar are indicative, will fluctuate with exchange rate.
・ Payment possible in Thai Baht, US Dollar or Euro.