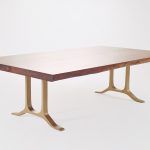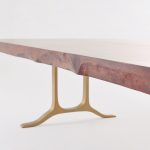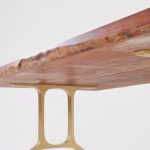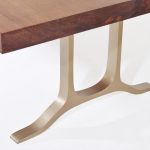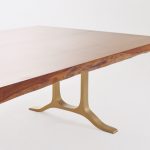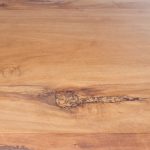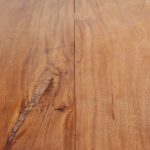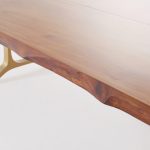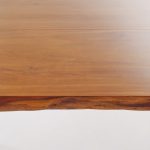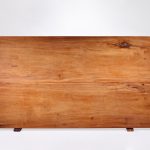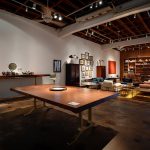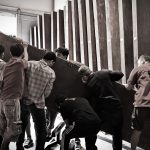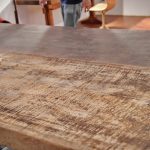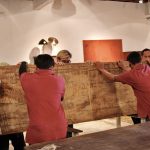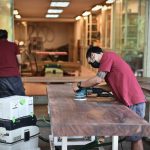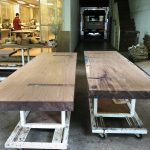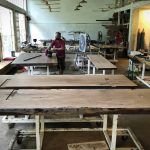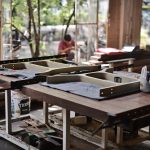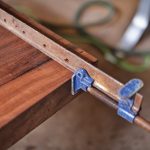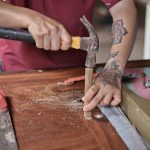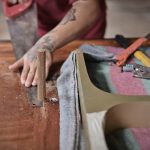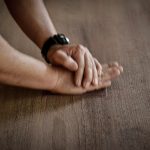 Bespoke Grand Dining Table, Antique Wood and Sand Cast Brass Base (In Stock)
In-Stock
Grand Table
with Capital "G"
As you are aware, P. Tendercool currently boasts a truly unique collection of about one hundred slabs of rare, antique Chicken-wing wood (jichi-mu) patiently sourced over 15 years. Founders Stephanie Grusenmeyer and Pieter Compernol used to be antique dealers, specialized in Classic Chinese Furniture: Chicken-wing wood was considered one of the most precious wood varieties; furniture in this wood has been eagerly collected since the Ming Dynasty (14th-17h AD), next to items in Huang Huali and Zitan wood.
Chicken-wing wood is extremely dense and its grain looks like "feathers if a bird", hence its poetic name given by Chinese Scholars and Collectors. Take a moment to study the natural beauty of this wood and check out the fine details, not onlike little feathers indeed. The raw edges, worn out after two centuries of use, add a sculptural character to the massive top.
From the two hundred slabs collected, only about 10 pairs were larger than 250 cm/98 inches.
Rare does not even come close to describe this tabletop.
PT22 Base
"Dense" wood also means: "Heavy" wood!
The two slabs combined weigh more than 300kg / 660 lbs…
The design brief to ourselves was to design a table-base which could easily hold this weight, would look elegant, and naturally, would fit our house style.
We think we succeeded, but as always: you will be our judge.
Without further ado, behold our newest design:
our PT22 Base in Solid sandcast brass*, designed in collaboration with Krit Putphim, whom we "discovered" 14 years ago at his very first exhibition and who – finally! – won Best Industrial Designer of Thailand, last year.
It was great to renew our vows with him!
The bases are sand-cast, by hand, by Armando Benato and his team. Armando is now 83 (!) springs young and used to cast statues for artists like Salvador Dalí.
Not a bad reference we say…
SKU:
2ATOP-PT22-BS1-BL-NO-260x145.5x77.4cm
Category:
Dining, Tables, In-Stock
Top

Antique Hardwood

Finish

Bleached + Natural Oiled

Base

PT22

Finish

Golden sand

Size

W 260 x D 145.5 x H 77.4 cm

W 102.36' x D 57.28' x H 30.47" in

Lead-time

12 weeks maximum
Antique Hardwood
P. Tendercool founders are former antique dealers who collected about 200 slabs of antique Chicken-Wing Wood (鸡翅木, Jīchì mù) over a period of 15 years. This wood was venerated during the 'Ming' dynasty and coveted by literati and scholars for its beautiful grain, "like feathers of a bird"
Our slabs were collected in Northern Vietnam, close to the Chinese border. Back in the 19th century, villagers would place two identical 'Slices' of the same tree next to each other, directly on the floor, to serve as a dry platform to sit, eat, and sleep on. This explains why our slabs come in pairs, typically about a person's size, in various thicknesses. Inspection of the underside shows they were clearly cut by hand (pre-machine age!), without traces of legs nor decoration. Unlike the Chinese refined 'Kang' tables for the well-to-do, these 19th century slabs were purely functional furniture.
The simple fact these wooden slabs still exist is proof of their stone-hard quality: many decades of humid-hot, termite-infested surroundings have had no noticeable effect other than them remaining solid witnesses of a bygone era. We keep them in their original unfinished state awaiting clients' preferences. We currently own two hundred slabs, an extraordinary collection for you to select from.
Table Bases
Our table-bases are sand cast by hand, one by one, by Octogenarian Armando Benato and his team. Armando started working with his uncle when he was fourteen and even worked for artists like Salvador Dalí. Care for a better reference?
Most of our bases are available in Bronze, Brass or Aluminum in a number of finishes. Download our catalogue to learn more.
Shipping Options
Don't worry! We ship about one third of our creations overseas and enjoy a near perfect track-record. Do contact us if you'd have any questions or concerns. We'll get back to you within 12 hours.
Door-to-Port
Delivery to the port nearest to you (by sea)
This is the most affordable shipping option. You will need to arrange transport from the nearest port to your (client) home. There are two options:
With help of a provided customs broker who arranges all the paperwork for you and informs where and when to pick up the crate(s). Since COVID-19 outbreak this custom broker service costs a flat fee of 1,300 US Dollar and is included in our quotation. All other costs are included, except some charges* at destination which cannot be pre-paid.
With help of a customs broker of your choice who arranges all the paperwork for you and informs where and when to pick up the crate(s). He will invoice you directly. All other costs are included, except some charges* which cannot be pre-paid.
Door-to-Door
Delivery to your – or your client's – doorstep (by air or by sea)
A customs broker handles all the paperwork and informs when the shipment is scheduled and when they would deliver. All costs are included except some local charges* at destination which cannot be pre-paid. We will always advise both DHL by air and sea shipping costs.
Note: to date we cannot arrange 'White Glove' delivery from Thailand: you should arrange help to uncrate, install and remove packaging. In reality a little pocket money to delivery people can do wonders. For larger items we suggest checking with the customs broker in advance if they are willing to offer that extra service.
Overview of charge* at destination
・ Local VAT (there is no import-tax on our furniture).
・ Merchandise processing fee = 0.3464% of value (USA).
・ Harbor maintenance fee = 0.125% of value (USA).
・ Storage fee (as per receipt, if any).
・ Customs inspection fee (as per receipt, if any).
・ Destination terminal fee (based on warehouse's tariff which is different for each warehouse at destination port).
Due to COVID-19, there are huge fluctuations in the shipping fees at the moment. Unfortunately for us, we can only secure shipping quotes for a maximum of two weeks. This means that we can only provide an estimate of the shipping quote when you place an order. Once production is nearly completed, we'll re-assess shipping costs and let you know if there are any changes. We'll of course do our best to keep shipping as low as possible for you.
---

Payment
Tax
We will add 7% VAT for items delivered in Thailand.
Fee/Charge
・ For payments by credit card, 2% will be added.
・ Since we are based in Thailand our prices are listed in Thai Baht. Listed prices in US Dollar are indicative, will fluctuate with exchange rate.
・ Payment possible in Thai Baht, US Dollar or Euro.